Neighborhood Watch
| | |
| --- | --- |
| Area | Addresses Covered |
| A | 3842 - 3848 Riva Ridge, tennis courts, clubhouse |
| B | 8916 - 8968 Bluff Lane |
| C | 8872 - 8912 Bluff Lane (South side) |
| D | 8871 - 8911 Bluff Lane (North side) |
| E | 8824 - 8868 Bluff Lane (South side) |
| F | 8831 - 8867 Bluff Lane (North side) |
| G | 8800 - 8827 Bluff Lane |
| H | 8740 - 8788 Bluff Lane (South side) |
| J | 8725 - 8777 Bluff Lane (North side) |
| K | 8700 - 8736 Bluff Lane (South side) |
The Bluffs has established a Neighborhood Watch Program. The information and documents on this page provide basic information to homeowners about the "area captains" and reporting of problems and issues.
The Neighborhood Watch Coordinator is:
Chris Larsen
(916) 205-6784
The Neighborhood Watch Co-Chair is:
Janet White
(916) 966-5488
View the map to see the areas and Area Captains.
The table below defines the Neighborhood Watch areas. Area Captains have volunteered to contact an assigned list of residents in the event of an emergency or crime where it is important for residents to be informed as soon as possible.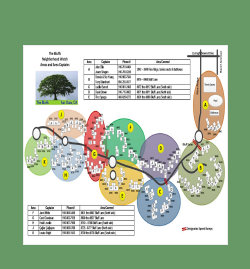 The following emergency numbers have been provided by the Sacramento Sheriff's Department:
Sheriff Emergency
(916) 874-5111
24 hour

Sheriff Non-Emergency
(916) 874-5115
24 hour
CHP
(916) 861-1300
24 hour

CHP North
(916) 338-6710
M - F, 8 am - 4:30 pm
Sheriff North Information
(916) 874-1021
M - F, 8 am - 4:30 pm

Sheriff North Service Center
(916) 876-5700
M - F, 8 am - 4:30 pm
The Sheriff's Department recommends that you program your cellular phone with the Sheriff's Department emergency number. If you are reporting an emergency to the Sheriff's Department and are using your cellular phone, your call will be answered by the Sheriff's Department Dispatch Center, not CHP. Cell phone calls to 9-1-1 are answered by the CHP.
The documents at right provide further information from the Sheriff's Department.
The
Sheriff's Department web site
provides additional information about reporting crimes and finding out about crimes reported in our area. If you are looking for crime reports, scroll down to crime mapping/crime reports or go straight to
www.crimereports.com
. There is a free iPhone App in the iTunes store for doing crime mapping on the go.